Have you ever used a driving navigation app and been redirected midway to a better route? The app removes obstacles out of an otherwise potentially painful traffic situation using data. It's not a one-size fits-all-route; it's customized and updated in real-time. Dr. Aimee brings the beauty of a "map app" to fertility care by serving as a personal navigator for every one of her patients. 
Infertility can result from a range of factors, and the more data Dr. Aimee has on those factors, the better the chances are for her patients to get to their destination: a baby.
This begins with her TUSHY Method, a vital set of fertility screenings that will help her identify the most common causes of infertility and set up a care plan specifically designed for you. T is for tubes. U is for uterus. S is for sperm. H is for hormones. Y is for Your genetics The TUSHY Method makes personalized fertility medicine easier, more affordable, and ensures that every patient will experience the highest likelihood for a healthy pregnancy.
In this online course, Dr. Aimee will walk you through the TUSHY Method, and provide you with the tests you can request from your doctor. 
No two fertility patients are alike, which means that all fertility care should be personalized to your individual needs.
This idea can sound expensive and daunting for both the patient and the doctor, but it isn't. In fact, Dr. Aimee has seen firsthand that when she uses "The TUSHY Method," a straightforward strategy for getting your fertility checked in 5 easy steps, her patients' satisfaction with their care increases — and the time it takes for them to get pregnant decreases. It's a new standard of fertility care that makes personalized fertility medicine easy and more affordable. She's now teaching these 5 steps to you, so you can replicate them with your fertility team.
Once you've enrolled, you can RSVP for one of the following live class calls with Dr. Aimee:
Monday, June 1 at 4pm PDT
Monday, June 8 at 4pm PDT
Monday, June 15 at 4pm PDT
Monday, June 22 at 4pm PDT
Monday, June 29 at 4pm PDT
Course Curriculum
Available in days

days after you enroll

The Basics of Your Fertility
Available in days

days after you enroll

TUSHY Method
Available in days

days after you enroll

Egg Whisperer DIET, Your Fertility TEAM, and The BALLS Method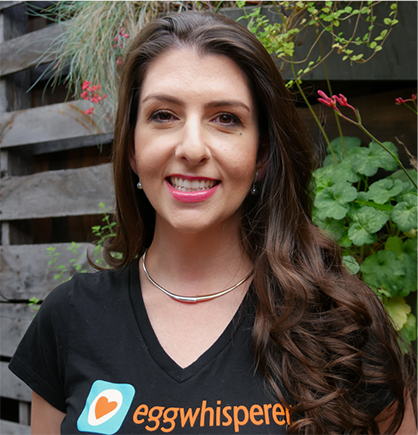 Hi, I'm Dr. Aimee
I'm a Reproductive Endocrinologist and OB-GYN out of the San Francisco Bay Area. I'm excited to be teaching this class about my TUSHY Method, and delighted you're interested in learning more about your reproductive health.
You can find out more about me, or check out my Egg Whisperer Show at my website: https://draimee.org/
FAQs
Why should I take an online class to learn about my fertility?
Dr. Aimee created the TUSHY Method to help women better understand the simple tests that they can have done, to get an accurate diagnosis of their fertility. As a medical doctor that's been doing this for over 12 years, she wants to share the information she provides to her own patients with others so they can make informed decisions about their own fertility.
Simply put, as women, we aren't taught about fertility. There are so many myths and so much misinformation out there, that she has made it one of her missions to teach people about fertility, it's decline, and what they can do to preserve their options. This online course is one way for you to learn more.
She has heard too many women say that they'd wished they'd learned about this information sooner.
Who is this Course for?
Women of all ages, who interested in growing their family either now or in the future will benefit from this class. The sooner you learn about the tests that are available, and the truth about your options the better informed you will be to make choices about your future. Professional women who know that they want children some day, women who have been diagnosed with unexplained infertility, and anyone curious about learning more about fertility will benefit.
This is a gender non-specific, LGBTQ friendly course.
What will you get from this course?
First and foremost, fertility expert Dr. Aimee will educate you about female and male fertility. Embracing the position of "diagnosis before treatment." You'll have access to list of steps and diagnostic tools that Dr. Aimee considers as part of her own "Egg Whisperer Plan," which she has developed to help her patients.
Disclaimer
This course is not meant to replace guidance from your personal physician. It is meant as an educational tool for you.
The tests discussed during the course are not included.
By signing up, you acknowledge that Dr. Aimee is the instructor. Enrollment does not create a physician-patient relationship, and this does not make you a patient in her medical practice.
Should you wish to become a patient, we welcome all participants to schedule a consultation with Dr. Aimee (the fees for which are not included in the enrollment of this class) by visiting https://draimee.org/schedule-a-consultation
Any general advice on Dr. Aimee's blog, website, or via webinar is for informational purposes only and is not intended to replace or substitute for any medical advice, diagnosis, or treatment.